Adding the contact details
It is very important that the contact details of your employees and users are stored correctly. With Avorra, you can add multiple contact details of users which will further help in seamless management of user details.
As an Avorra administrator, you can manually add contact details of your employees or users on the Avorra platform.
To add contact details, follow these steps:
Step 1 – Accessing the Contacts tab
After logging on to Avorra, the tab can be accessed using the 
option.

Step 2 – Using the add contact option
On the contacts page, click 

Step 3 – Entering the contact details
Enter the user details such as: 
First/Last name

Valid email

Position or designation in the organisation

Organisation name

Contact numbers (Mobile, Home, Work, or Fax) – You can add multiple contact numbers for a user by using the option.
If you have a picture of the user, use the  
 option to upload the picture.

Step 4 – Adding the contact details
Ensure that the details entered are correct and click 
.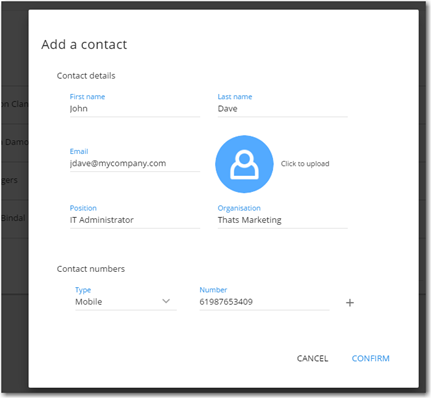 The details will be added on Avorra and listed under Contacts.