Recharging the Avorra balance manually
Avorra charges your card (linked to Avorra account) for making and receiving calls. Avorra lets you recharge the Avorra balance manually so that you can continue to use all the features without any hassle.  
You can also recharge the balance by using the auto-recharge feature. For more information, see Setting up auto-recharge on your card.  
Note: You must have "Admin" role rights to make changes to organisation details. For more information on user roles, see User roles.  
To recharge your Avorra balance manually, follow these steps:
Step 1 – Accessing the Organisation tab
After logging onto Avorra, the tab can be accessed by using the 

 option.

Step 2 – Accessing the Billing option
On the organisation page, click 


Step 3 – Recharging the balance manually
On the billing page, click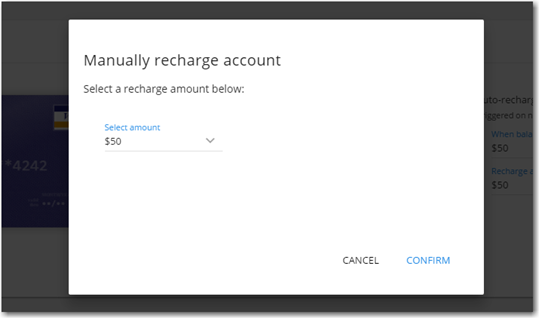 Select the amount to recharge your account with.
Click 

Your account will recharged with the amount specified.